This post should really be called "Why Tokyo Fashion Week is My Favorite". Seriously, they are in that niche between where they have amazing designers and shows, but it's not so permeated by big labels that we see the same things every year. Japan excites me because they are always pushing the envelope. Let's take a look at a few of the highlights from Mercedes-Benz Fashion Week Tokyo 2015.
Streetwear: Killer. Menswear: On point. Wheelchair fashion: Wait what?
****************
****************

Photo from Savvy Tokyo; Takafumi Tsuruta brand- Tenbo
****************
Yeah. This Okay, so similar things were done earlier this year. An acress with Down's Syndrome and a male model amputee walked the runways at New York and Milan. But the Takafumi Tsuruta brand dedicated an entire catwalk show to an easy-to-wear collection. The clothing was modeled by the able-bodied and disabled alike, and was flaunted by models who had prosthetic limbs, were blind, or used a wheelchair. That wheelchair girl was the cutest thing in the world, too. The 24-year-old Ami Sano was greatful for the opportunity, and spoke about how there is still stigma in Japan about those with disabilities and she hoped to inspire a step in the direction of change.
****************

Photo from the DailyMail
Photo from Grazia
****************
And since I brought up menswear…
Can I just say that nobody does men's clothing quite like Japan? Their men, although probably considered 'metro' here, oftentimes are a little more into grooming. Being fashion-forward for a man in Japan means the whole 9; using skincare, trendy hair, cool clothes. Since Japan's womenswear tends to be a bit more conservative than Western styles, I feel like it helps to put emphasis on the menswear. I will let some photos speak for themselves. I would die happy if I could get my country boy into anything like this.
****************
Photo from AsiaOne News; "FACTOTUM" by Japanese designer Koji Udo
Photo from Fashion Glossary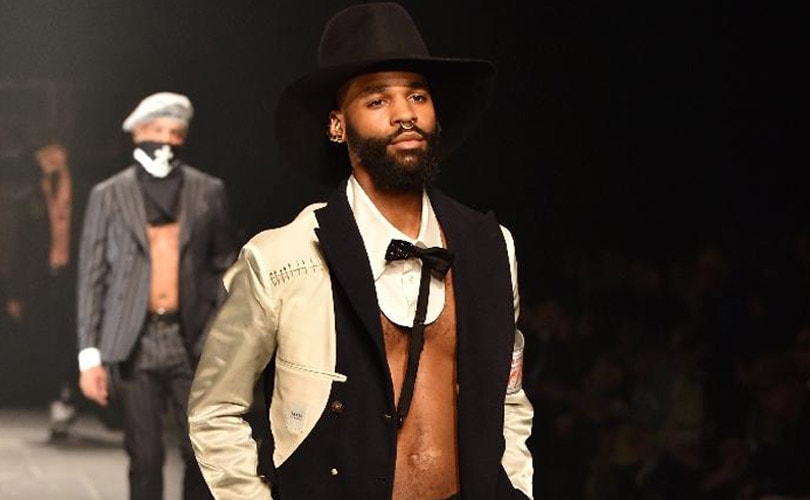 Photo from Fashion United
****************
Everybody who follows the theatricality knows that joining in on the streets is half of the fun of Fashion Week, and Tokyo is no exception.
Check out these looks from the fashionistas and fashionistos of Japan
(and just *try* to pretend you're not dying of envy).
****************
Photo from Garotas Modernas
Photo from Modern East Journal
Photo from BigoDino
Photo from Jenny.gr

ありがとうございます !
__________